Zoll AED Plus – The First Full-Rescue AED
The Zoll AED Plus has all the hallmarks of a ZOLL product: advanced technology, durability, quality, and value. With more than 20 years of experience in defibrillation—and 10 years manufacturing AEDs—ZOLL is a pioneer in resuscitation solutions. ZOLL is a standard used in leading hospital, EMS, and public safety facilities worldwide. On sale now for $2500.00 including free carry case, signage, CPR chart and batteries.
Featuring instantaneous CPR feedback
Inadequate compression rate and depth are common during CPR. Adult victims need compressions at a rate of 100 per minute and at a depth of 1/3 of the chest. Compressions must be done well to effectively move blood and oxygen. The ZOLL AED Plus™ converts compression data instantaneously from the CPR-D•padz™ and provides an adaptive metronome Real CPR Help® to help the rescuer with the proper rate and depth, saying "Push harder" or "Good compressions," as needed. It also shows CPR compression depth on the display screen. ZOLL's AED Plus is the AED that helps the rescuer achieve the correct rate and depth of chest compressions during CPR.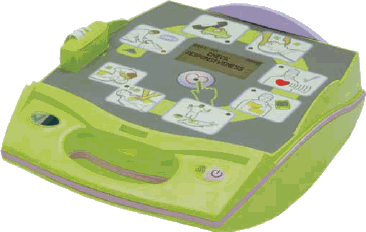 Zoll AED Plus – Consumer Batteries for Convenience and Savings
The ZOLL AED Plus is the only AED to use inexpensive, consumer batteries that are easy to replace and last at least five years in stand-by mode. These lithium camera batteries are available at most department and electronics stores.
Zoll AED Pluse – Special Inclusions from Perth Fire
Included with your purchase of the Zoll AED Plus:
CPR-D Padz
Pedi Padz
Soft Carry Case
Type 123 Lithium Batteries (x10)
AED Angle Wall Sign
AED Window Sticker
CPR Chart
Purchase your AED Defibrillator from Perth Fire, we will donate 10% of the profit to Backpacker Medics.